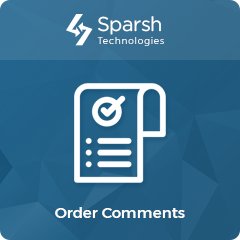 Order Comments
Developed by Sparsh Technologies, the following extension turns out to be useful for those (customers) who wish to add any kind of special comments/notes/messages while placing the order on the checkout page. And yes, the comment, note or message can be easily viewed by both admins as well as the customer.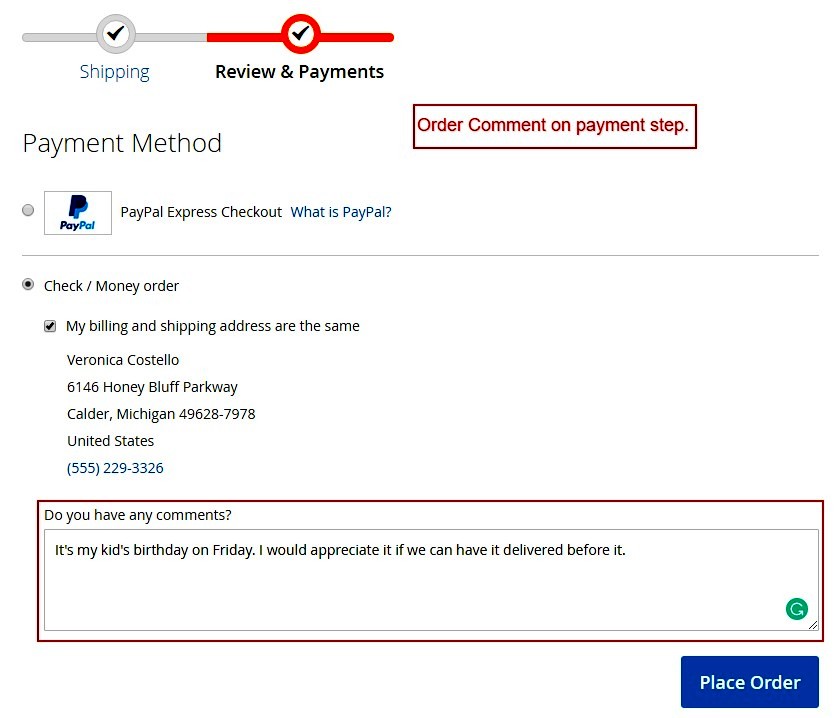 Tech Specifications
Rating:
Marketplace: Sparsh Technologies
Updated:20 October, 2020
Categories:Extensions, Shipping & Fulfillment, Order Management (OMS), Warehouse Management System (WMS)
Price:Free
Overview
It's time to convey to your end customers that you are listening! And feedback is the only way through your end customers can reach you and share their experience while making the purchase. After all, allowing them to leave a comment is the only way through which you can improve your customer's buying experience. Sparsh Technologies strives extremely hard to provide the best possible services to their end clients and maybe that's why we came up with this Magento 2 extension in particular. Once enabled, the extension will be found on the order detail page in the Magento admin. Right from adding comments to relevant instructions, and special requests, customers can do this without any hassle.
Furthermore, one doesn't need to look around here and there as the comment box is mentioned right in front of you during the checkout. Also, in case if the admin does not want feedback for time being he or she has the power to enable/disable right from the admin panel.
Functional & Responsive
Designed in such a manner that the extension can be used by any eCommerce seller. Order comment extension here is quite handy through which businesses can end up enhancing both their sales and services. High-end functionality and responsiveness are other crucial factors worth considering.
Special Comments
Adding one small feature can make a lot of difference! Imagine a situation when somebody is able to mention specific needs or requirements before checking out. Moreover, the comment section can also be used as an effective tool for communication.
Easy To Configure
To hide or to show a comment is all in your hands as an admin. Even as an admin, you will be able to read from the order section at the backend.
Features
Easy installation
Enhanced shopping experience
Add order comments during the checkout process
Viewing the order view page in the admin panel
Enable or Disable the extension as per your requirement
Tell us about your project
Hire dedicated Magento developer from the vast and talented pool of resources.