Magento Shopping Cart – the Best Platform to Build an Online Store
Marketing
Selling products online opens up a business to the world of prospective customers. Nevertheless, when planning to set up an eCommerce business, there are several things to take into account. Setting up one could involve different regulations and laws to adhere to, so it is a good idea to consult a lawyer. Others things to consider include the product or products to be sold and of course what kind of eCommerce solution to integrate.
There are numerous online shopping carts available at present, thus it is integral to choose one that would serve the business best. Choosing the right platform could be a truly difficult endeavor. However, one of the most well-touted and widely used eCommerce systems worldwide is Magento. Currently, it is the most popular platform in the United States.
The characteristics of a content management system are one of the most integral factors to consider. The eCommerce platform is said to be upgradeable, scalable, extendable, modular and flexible, which is exactly why it is favored above the other commerce solutions.
The Magento shopping cart is a great solution for any online retail business. It could help personalize the shoppers' experiences and keep them engaged from the first glimpse all the way to checkout. Additionally, Magento targets customers through buying history or demographic profiles and engage them via coupons, special offers and promotions. Over 240,000 merchants all over the world trust in the eCommerce software and Magento development. The platform provides the tools needed to draw more prospective clients, sell more products and so make more money on the web.
Any eCommerce business owner will be able to boost revenue and supercharge operations with the suite of powerful, flexible suite of features of Magento. It is more than a powerful shopping platform; it is considered as the key to efficient and fast growth. With the platform, the data is usable and create basis for better and data-driven decisions.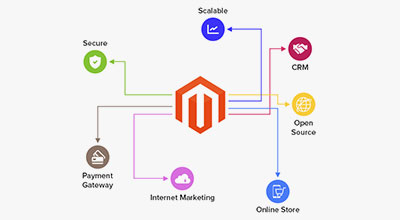 Advantages of Magento – the eCommerce software and platform trusted by the world's leading brands:
Magento has mobile-friendly configuration. It is developed responsively, making it seamlessly available on tablets, smartphones and other mobile devices. This could accommodate a consumer shopping trend that keeps on moving toward mobile usage.
Content management that is versatile. The visual-based, intuitive page editor enables store owners to create and customize their offerings. The choice to toggle a user-friendly content management interface is great for those code-deficient users who want to maneuver basic functioning within the cart.
Spacious and powerful. The platform could support over 500,000 products on a single site, and handle more than 80,000 orders every hour. It means plenty of space for future growth between one or more various carts on the same website. Due to its complexity and size, the platform has special hosting needs for optimum load speeds and performance.
Advanced SEO. The solution does a great job of opening the flow for enhanced organic traffic. It was built with SEO efficiency in mind, providing products a better chance to appear on Bing, Google and beyond. Moreover, there is a lot of room for custom SEO implementations.
Built-in up-sells and cross-sells. With Magento, a business could add prompts easily to browse related options on product as well as checkout pages. This boosts user experience and increase the sales potential.
Saves time and money. Magento is expansive library of custom extensions. One could use and share tools with other users to save the hassle of building from the ground up in most instances. Furthermore, one could also build and manage multiple online stores using one instance of the platform, in numerous currencies and languages.
The solution is renowned for its rock-solid features as well as immaculate security and is one of the best platforms to raise an eCommerce site. Setting up a first-rate, high quality online business using the solution evidently offers users a pleasant web shopping experience.
Also Read: Magento 2 upgrade to latest version
Check out the different Magento versions available in the market:
ENTERPRISE EDITION
It is a high performance, scalable solution for rapidly growing and huge businesses. It possesses enterprise-class features and flexibility needed to create a solution that is tailored to one's requirements. Furthermore, it helps drive more traffic to the shop, boost online revenue and make browsers in to buyers. It is designed with search engine optimization in mind, so it is easy for clients to find the products on the web. Highlights for this version include:
Tailor back-end workflows to the business
Flexibility in creating rich consumer experiences
Open architecture
Hundreds of available extensions
Incorporate with other eCommerce solutions
Expert training, support and consulting services
Network of certified developers and partners
COMMERCE ORDER MANAGEMENT SUITE
This version coordinates the client's experience across all sales and fulfillment channels, collecting data and information from each and orchestrating optimal processes and rules for every individual order. It contains distributed order management, inventory management, Omni channel fulfillment, tax and fraud, payment and analytics capabilities to offer customers a seamless experience across any channels. With the fastest time to market, one could implement the order management suite as a fully integrated or modular solution. A business owner could drive revenue and consumer satisfaction, while easily managing Omni channel operations. Highlights include:
Global view and inventory management
Flexible, modular and integrated
Omnichannel fulfillment simplified and orchestrated
Fast speed to market
Flexible and safe payment options
RETAIL COMMERCE SUITE
Customer experience revolutions begin in the palm of your hands. The innovative retail commerce product provides in-store associates the power of revolutionizing customer experience. Today, customers could access the complete online and in-store brand inventory, and customer interactions all in the palm of their hand. With point-of-service feature, associates could step out from behind the register and makes sales wherever in the shop, while providing clients fast response and fulfillment, the way that they like. Highlights are:
Full catalog access
In-aisle commerce
Customer engagement
Associate task management
COMMUNITY EDITION
Is considered the perfect solution if the merchant is a developer or is tech-savvy who wants to explore the flexibility of the platform. It enables one to modify and even contribute to the core code and engage with a passionate community of developers for guidance and support. The highlights of the community version are:
Free to download
Open source eCommerce software
Community-based support
Magento is definitely stable with a tremendous architecture which in turn enables adding new functions as the need arises seamlessly. Furthermore, it is also a great platform to reach a wide audience through social media. To make the site add more value to the business, installing social media extensions is a great endeavor. The quickest and cost-effective way of driving enormous sales is via promoting the products through social media sites such as Twitter, Facebook and others.
Given the impact and advantages of social media in enhancing businesses these days, it becomes integral to learn some social media plug-ins with stunning features.
Magento has irresistible social media plug-ins for websites that play a vital role in driving sales, including the following:
FB Shopping Cart:
Facebook, with millions of followers is without doubt one of the best social platforms around. Products would be showcased before millions of visitors that will in turn multiply the business profits. Some of the power-packed features of Magento extension include integration of networking and shopping, high compatibility, product display on user's wall. The simple plug-in could really lessen the big burden on the shoulders of businessmen and help them develop their businesses.
Magento Facebook referral:
It enables users to effectively recommend products of the eStore via Facebook. Moreover, it is necessary to offer users some effective discounts to make sure they stick on to the site. Installing this plug-in creates an F-recommend button on the cart page. The FB Referral of the platform is found to be one of the best extensions for boosting brand image as well as referral traffic.
FB Social:
Annexing product details with an FB site is a great move to improve services and products to a huge extent. Pull more clients by showcasing high-quality products in front of them via FB. The extension could be easily installed and integrates the products page with the Open Graph Protocol of FB easily. It's a great extension to expand the customer base.
Social Login:
With the help of the powerful plug-in, visitors could login easily to the sites using Facebook or Twitter login seamlessly. This is an interesting plug-in that will undoubtedly rope in more clients as well as site visits. Social login extensions have a wild ride in the market since most organizations are aware of the value of this great plug-in.
Facebook Discount:
All users have to do is to like the shopping cart page on FB. In doing this, the Magento Facebook module offers considerable discounts to customers who shared the FB page updates with relatives and friends. Using the simple extension on the website will increase the customer base and revenues rapidly.
Social affiliate:
It is a Magento extension that improves business in an impressive manner. With this plug-in, one could easily invite friends to the shopping cart page and thus will be rewarded a few credit points. When the credit points reach a specific limit, freebies or discounts will be offered for that person who purchases the product.
All the information given above helps any eCommerce shop owner to integrate the platform online to boost revenue as well as for more efficient business flow. Magento is open source and indeed a very effective platform for different eCommerce requirements.
Tell us about your project
Hire dedicated Magento developer from the vast and talented pool of resources.